I just finished knitting a slouch hat for myself and wanted to post my notes so that I can make more of them just like it.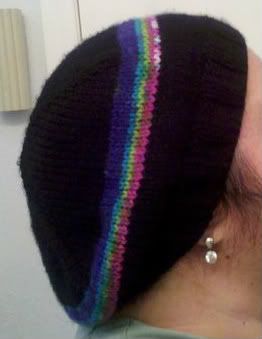 Top Down Knit Slouch Hat
Hat body US size 10 circular
Hat ribbing US size 7 circular
KFB=Knit in front and back of same stitch
YO=Increase one by doing a YO. **
On next round, knit all YOs through the back loop to avoid making a hole.
Knit using either magic loop or two circular method
With larger needle CO 8 sts: CO 2, PM, CO 4, PM, CO 2. Put half of total number of sts on each needle and proceed with magic loop or 2 circular method.
Round 1: *KFB* around. 16 sts
Round 2: Knit
Round 3: *K1, YO, K2, YO, K1* around. 24 sts
Round 4: *K1, YO, K4, YO, K1* around. 32 sts
Round 5: Knit
Continue in this manner: *K1, YO, K X number of sts to last st before marker, YO, K1* until you have 120 sts total.
Make color changes as desired.
Knit until you have 8 1/2" from crown to needles.
Decrease round: *K3, K2tog* around. 96 sts
Change to smaller needles for ribbing. Knit K2, P2 or K1, P1 ribbing for 1 1/2 inches.
BO loosely. Use starting tail to sew up hole at the crown. Weave in ends.
*Edit: Not quite sure I like the 4 increase sections. Might try 8 so that it looks less square from the top.