Last week, my friend, Erika, and I went to a local farmer's market where I went especially to buy macarons from
Sweets 507
. I had never had a macaron before but was so intrigued by them. I wasn't disappointed at all. These macarons were fantastic! They were a box of 4 for $5 or two boxes for $9. I bought a box of caramel filled and an assorted box containing one caramel, one raspberry, one pina colada, and one tropical hibiscus filled. While the homemade caramel filling was delicious, the assorted box was exciting. I polished both boxes off in two days and had dreams of macarons every night after that. As usual, I checked YouTube for a tutorial and found many to chose from. I chose
this one
but looked at a couple more as research. I also have the current issue of Tea Time magazine which happens to have macarons on the cover and a recipe inside. Most recipes I found have measurements in volume but the recipe I chose uses weight as the measurement.
Macarons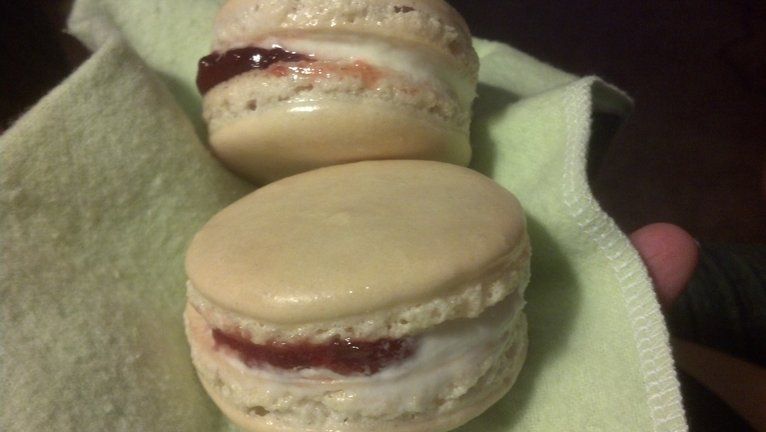 3 egg whites, aged in fridge 3 days
180 g powdered sugar
100 g almond flour (Bob's Red Mill)
I filled with cream cheese frosting and jam or cream cheese frosting and Nutella.
Please follow the video for instructions.
I'm really excited because I was led to believe these cookies were hard to make. They were not.