I think this is my first crochet along.

It is the No End In Sight Ripple Along and these crocheters are making some beautiful ripples. Just looking at them was inspiration enough to start another round ripple afghan. I couldn't figure out what to do with the blue/green/yellow yarn I bought for the house slippers I was designing but ended up hating. Here is what I've started: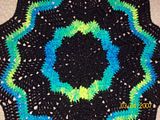 It's turning out just as I planned and I can't wait to finish it.