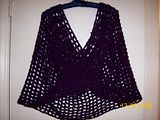 Just finished this crochet moebius shawl the other night. I was too lazy to take pictures at the time. I think it was 2:00 a.m. Just had to get it done. I'm sure you know how that is. It took a little over one skein of Red Heart Plush, which is just like TLC Amore, in a deep purple color. I crocheted it on a size I hook and just made it up as I went along. When I started, it was going to be a shrug, then as it progressed I thought just a shawl, then it morphed into this moebius. I happen to have a dress that will go with this rather nicely.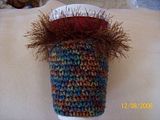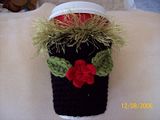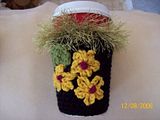 I have been obsessed with coffee cozies lately. I have been wanting to make one for a long time and know how easy they are to make, but have had so many other things to make. I was working on a project for my sister and just had to take a break from that. I made myself a cafe latte and jumped right in. I was inspired by another
coffee cup cozy
that I found online. Mine are a bit different though. I made a few of these and gifted some of my friends while we were knitting together the other night. We were all matchy-matchy except for the colors of our fur.
Back to work!