Okay, I'm late by a day. I was too lazy to post yesterday. After I dropped the eldest son off at school I remembered that I saw the pattern for this crocheted heart in the latest edition of Crochet Today! and also remembered that I had some red #3 crochet cotton in my stash so I went about making one for my Valentine. He had to work yesterday but I didn't want him to think I had forgotten so I made him a card with a poem inside, bought him some balloons and chocolate and went to the fire station he was assigned for the day. It was my luck that he wasn't there when I arrived because I took the goodies into his room and left them on his bed. I got a call from him shortly after arriving home asking if I thought I was sneaky. Yep! I was sneaky as hell.
I also got some more done on these socks. I turned the heels before bed and worked on them a bit today. I really want to finish them tomorrow but I don't know if I'll get a chance to do that.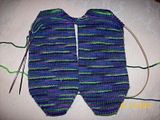 You see, whenever my Mom makes plans to come for a visit, like she is on Tuesday, I freak out. My Mom is hypercritical about my housekeeping. My house is definitely not a pig sty but we do "live" here and I tend to have a bit of clutter going on at all times. My worst offender is my pool table upstairs. It is the perfect spot to fold clothes and I have it divided into four sections, one for each of us, on which I will stack everyone's folded clothes. The problem is that I don't put them away once folded, for quite awhile. My husband's clothes get put away more than anyone elses because he likes to roll out of bed and have his clothes within reach. The boys know the drill and automatically go to the pool table when they're ready to get dressed for the day. Sad, I know, but much better than living out of a laundry basket, wouldn't you say? At least I don't have clothes piled up waiting to be washed.
Another hot spot is the kitchen island. This is the spot where my husband and I seem to deposit mail, keys, cups, plates, crumbs, etc. whenever we walk into the house from the garage. It is only totally cleared off when company comes over.
I've got my work cut out for me tomorrow. Vacuuming, dusting, laundry, decluttering, general tidying up. I probably won't shampoo the carpets until Monday. I need to get my act together and stick to the
Fly Lady
principles. I have two of her books but haven't had the opportunity to read them yet.
Got to get some sleep.