I have recently joined
Socktopia
and
Sock A Month 3 (SAM3)
to help in my stash busting endeavors. I had frogged my Koigu sock twice already and waited until yesterday to cast on with more stitches. I had originally started with 48 then 52, and now 60 on size 2 needles. They're a bit loose but should be all right. I worked on it a bit at knit nite last night. I am now working the short row heel while watching last week's Grey's Anatomy on ABC.com. I recorded last night's on the DVR but I ran out of space on the hard drive and only recorded 16 minutes of it. That episode will be watched next.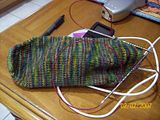 I also brought this scarf along last night but couldn't concentrate on the lace chart to save my
life because I was catching up with the girls.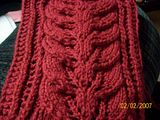 And I have been baking bread. For those of you who don't have a bread machine, do not assume that just because you have this thing, that you can automatically make good bread. I have made my share of crap but today...I made this awesome loaf of breadiliciousness.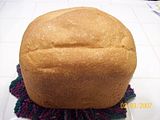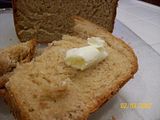 Other than being able to eat piping hot bread, I think bread machines should be marketed just like those scented oil plug in things. The house smells so wonderful. I tweaked my original recipe just a tad and here it is:
Honey Wheat Bread for the bread machine
1 c. water, lukewarm
2 Tbsp. butter
1 1/2 tsp. salt
1 c. King Arthur Whole Wheat Flour
2 c. bread flour
2 Tbsp. dry milk powder
2 Tbsp. honey
4 tsp. Vital Wheat Gluten
1/4 tsp. baking soda
2 tsp. yeast
Add ingredients in the order suggested by the bread machine manufacturer. I don't know if this makes any difference or not but I store my flour, yeast and gluten in the freezer and I add them in cold, not room temperature. I bake on the standard setting with a light crust. I hope if you try this recipe, you get great results, too.