I'm really making an effort to reduce the size of my stash by getting a few dishcloths made. I even cast on for a clever little dishcloth that I found
here
. Well, it's still stash reduction, right?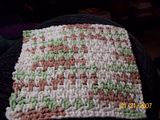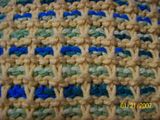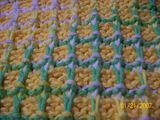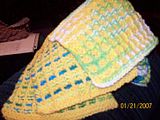 I've started
Cozy
and am using some #3 mercerized cotton that I originally bought to make facecloths. I wanted something lightweight and lacy. This is probably going to be my first exception to the stashbusting plan, however. I only had 1+ balls of this yarn and plan on using at least 8 balls, but at under $3.00/ea this won't be a budget buster. I've found, as with other lace projects I've tried, that it helps to have a chart to work from. This particular pattern didn't have a chart so I fudged one. I have a knitting symbols font but it was just easier at the time to do it like this since I was working on my husband's computer. It is a very easy knit but I can only memorize one line at a time (while I'm doing it). I cast on 109 sts, which is more than the 85 called for in the pattern. I'm using US size 8 needles and have borrowed the paper towel holder from the bathroom to hold my yarn steady. I beaded this little row counter to help me keep track of where I am in the pattern.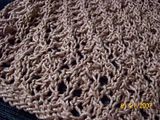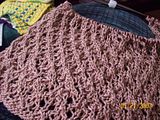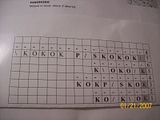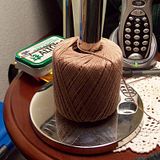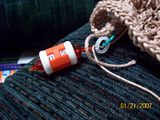 I have since finished the pair of these fingerless mittens. They were made of Lamb's Pride worsted weight wool in the Fuschia color on size 4 needles. I cast on 40 sts and worked the thumb on 16 sts.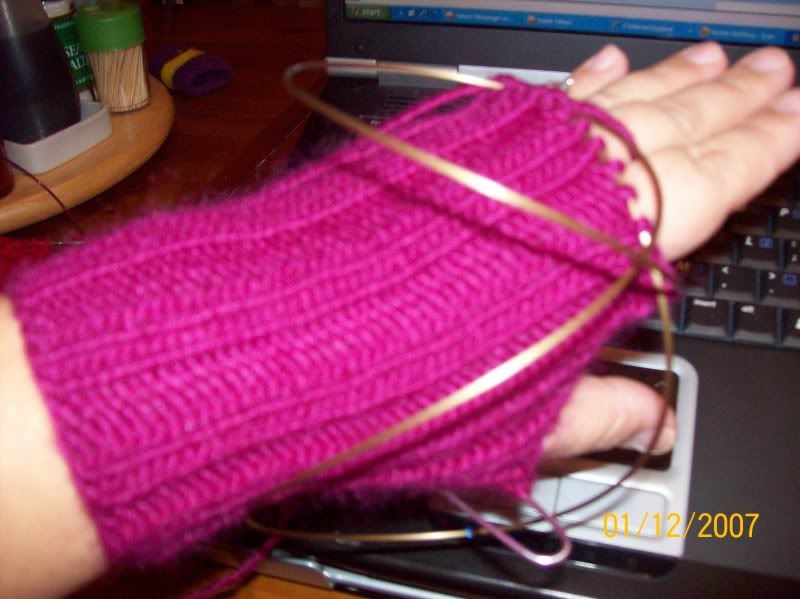 I started a pair of toe up socks last Saturday when Sidra came over to knit with me. I originally cast on 48 sts on size 2 needles but after trying them on again right before I was ready to turn the heel, I faced the fact that they were a bit small and ripped back to the toe and increased to 52 sts. I think I'll be happier now. This is all I have accomplished thus far. I last worked on them at knit nite on Thursday with members of my knitting group,
Las Vegas Knitters
.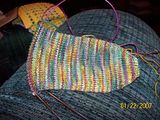 It's really windy outside but you'd never know it by looking at my furry kids. I'm keeping warm from the inside out by enjoying a hot cafe mocha and listening to streaming Hawaiian music from
HawaiianRainbow.com
on my iTunes.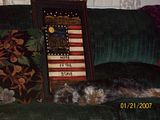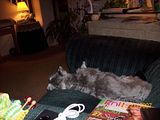 So, even though I haven't been active on my blog, it doesn't mean I haven't been busy knitting.
Aloha!